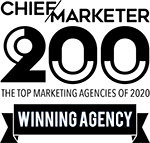 Recognized for its expertise in 'all things shopper marketing,' bBIG Communications has once again received a coveted Chief Marketer 200 Award as a top brand engagement and activation agency in the US for the work it did on behalf of a wide range of clients spanning from Coca-Cola to Johnson & Johnson, Nestle Purina and Kraft Heinz to name just a few throughout 2019.
In announcing the award, the editors of Chief Marketer noted: "Given that bBIG Communications is a completely virtual/remote agency, you'd expect it to have a solid grasp of all things digital and social. And it does— but it is equally adept at live events, POS promotions and print marketing. It recently adopted "ALL CHANNELS ON®" as its tagline, and just about every channel from a custom microsite to in-store programming was integrated into its five-month Purina 28-Day Challenge coupon program targeting customers at Military Commissaries. Generating almost 5.5 million impressions, the program was so successful that Purina expanded it to Military Exchange stores."
For the second year in a row bBIG Communications has won a Chief Marketer 200 award. Not your typical agency, bBIG is among the few that can offer its clients depth and breadth with a wide range of channel subject matter experts on its team, making the agency highly specialized in holistic, audience-centric marketing spanning from strategy all the way through to execution and measurement.
"We provide seamless, cross-channel activations supported by our fundamental, corporate culture of creating stellar, timely communication," said Mark Igo, Chief Operating Officer at bBIG Communications.
As a diversified marketing services agency specializing in geo and demo-targeted digital and social media lifestyle communities, bBIG's growing menu of services span from strategy, innovation and strategic planning to developing digital communities, building audiences and memberships as well as influencer marketing.
Chief Marketer's editors accepted applications from across the country for the CM200. Winners were selected based on several criteria including: insightful client testimonials; outstanding case study submissions; high caliber, consistent work across programs and clients; innovative and creative executions; and bold and inspiring concepts and ideas that are moving the industry forward. The 200 agencies selected for this year's program are thought leaders in their craft and representative of the best of the marketing industry.
"Many of the marketing disciplines that were once considered 'below the line' have come into their own and become some of the most powerful marketing tools in the marketing mix," says Jessica Heasley, Group Editor & Publisher at Chief Marketer. "We created the CM200 three years ago to shine a spotlight on this vibrant and fast-growing agency community, and to help modern marketers find the partners that will help them craft the kind of campaigns that modern consumers demand."
bBIG offers clients a full range of digital marketing and social media solutions, custom websites, app development, digital ads, content creation, digital couponing as well as text and email marketing. That experience was demonstrated through a range of activations throughout 2019 that included:
Programs Designed to Build Brand Loyalty and Repeat Purchases – Purina was looking to drive more brand engagement and came to bBIG with the challenge of creating and implementing a program that would generate repeat sales. The result – the 'Purina One 28-Day Challenge – see the difference in your pet in just 28 days!' Through an ALL CHANNELS ON® blended combination of a custom micro-site, emails, videos, social media and in-store POS programming, bBIG helped educate consumers on the Purina One 28-Day Challenge program within Military Commissaries. The agency enticed these military consumers to engage in the brand program with a generous incentive of a free bag of Purina One dog and/or cat food.
This highly targeted shopper program was a huge success with almost 5.5 million impressions throughout the five-month campaign and the program has now been expanded into Military Exchange stores.
Using Sweepstakes to Drive Repurchases – Capitalizing on years of expertise delivering successful marketing campaigns for brands serving the military channel, bBIG leveraged its relationships with the Defense Commissary Agency (DeCA) which agreed to partner with our unique offering of co-op lifestyle-thematic, mega-event solutions. The goal was to drive a path to purchase and repurchase with Commissary gift card sweepstakes and enhance consumer engagement to drive increased basket size. Utilizing a mix of digital, social & custom emails, bBIG delivered shopper awareness and engagement that drove store foot traffic coupled with in-store program continuity. The program kicked off with a Family Fitness theme. Traffic was generated using bBIG's ALL CHANNELS ON® marketing via email, digital, social, video, and a circular. The sweepstakes text-to-enter information was only available in-store on POS near participating products. Combined elements had more than 5 million impressions.
Honoring Members of the Military – 2019 was bBIG Communications 2nd year supporting the Coca- Cola #RanksInThanks 3rd annual campaign honoring members of the military and their spouses. To show their support for service members, Dollar General and Coca-Cola were proud to donate $100,000 to support the military through the USO.
bBIG was tasked with increasing amplification of this in-store and online/digital military mega-event by partnering directly with the USO, in conjunction with Coca-Cola, to further extend awareness among both members of the military and consumers who shop at Dollar General retail store locations across the country. This cohesive co-branded campaign tapped into bBIG's Military Wives Saving social/digital community to deliver lifestyle appropriate content including custom influencer videos, targeted email campaigns and a blog feature. The campaign encouraged customers to purchase special edition 'Thank You' Coke products and share with a member of the military. The result was positive brand exposure for three brands benefiting from a single campaign (Coca-Cola, USO and Dollar General).
If you'd like to learn more about how bBIG Communications can help your brand generate more sales with award winning innovative programs spanning from digital marketing campaigns, creative apps and social media campaigns to influencer marketing and membership drives, we'd love to have a conversation. Click here to tell us more about your brand and schedule a meeting.
###