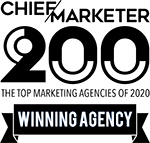 Our customized business consulting and marketing campaign solutions are rooted in the foundation of helping our clients win! By keeping a pulse on the latest marketing trends and technology for products and services spanning multiple industries, we are able to share a diverse, fresh perspective with our clientele. Coupled with our love of optimization, via our best-in-class ALL CHANNELS ON® approach, analytics and reporting, we continually evolve our suite of services available.
We are trusted stewards of our clients' valuable time and budget resources and improve their speed to market by minimizing touchpoints, costs and knowledge transference. Ensuring holistic connectivity and brand continuity for multi-channel campaigns is essential, so we handle that heavy lift for you. Refining custom audiences and reach to the most valuable markets is a modern day necessity, which is why digital and social are core to our own DNA.
Our team of subject matter experts provides over 20 years of global brand, shopper and trade marketing expertise in all the core disciplines from strategy, budget, media, creative, and production. Since we know that there is great talent everywhere, we are proud to be a completely distributed company from San Diego to Chicago to Boston and Baltimore. Wherever you are, we will come to you!
bBIG Communications was named by Chief Marketer as one of the top 200 marketing agencies for the second year in a row.