bBIG Communications Wins at the 20th Annual Horizon Interactive Awards Competition
INDIANAPOLIS, Ind. (March 24, 2022) —- The Horizon Interactive Awards, a leading international interactive media awards competition, has announced the 2021 award winners to highlight this year's "best of the best" in interactive media production.
bBIG Communications was recognized for excellence with a Bronze Level award for its Purina Military Cat Club member email campaign.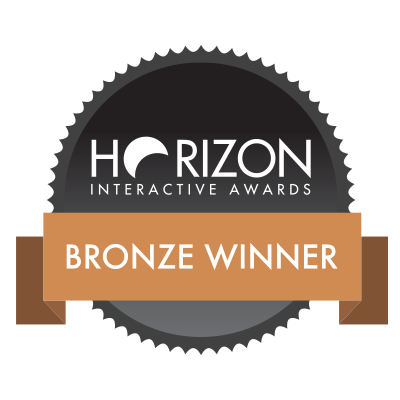 "This partnership with Purina Military Cat Club has exceeded our expectations," said David Gibson, president of bBIG Communications. "We approached Purina with a concept that would allow members of the military to earn loyalty points and save money on all of their cat food purchases. Over the past year, we saw consistent open rates of over 20 percent with click-through rates at nearly 50 percent, while membership levels more than doubled over the past year."
The 20th anniversary of the competition saw over 700 entries from around the world, including 26 out of 50 U.S. states and 21 other countries including: Australia, Belgium, Canada, Colombia, Denmark, Germany, Greece, Hong Kong, India, Ireland, Japan, Philippines, Russia, Singapore, Sri Lanka, Switzerland, Taiwan, Turkey, Ukraine, United Arab Emirates and the UK.
An international panel of judges consisting of industry professionals with diverse backgrounds evaluated nearly 60 categories spanning multiple media types, including websites, mobile applications, print media, interactive displays, public exhibits, online advertising, video, email and more. The 2021 winning entries showcase the industry's best interactive media solutions from some of the top agencies, designers, producers and developers all over the globe.
"The 20th annual competition was a special milestone for the Horizon Interactive Awards. It marks two decades of hard work to fulfill our mission of recognizing excellence in interactive media production. The winners in the competition this year have proved that, despite continued challenges around the globe, there are no limits to how technology and digital media play an integral role in connecting services, products, ideas and experiences to people of all walks of life in new and impactful ways," said Mike Sauce, founder of the Horizon Interactive Awards. "The winners of the 20th annual competition truly represent excellence in interactive media production, and they all should be extremely proud of the work that they produce."
The Horizon Interactive Awards holds the competition each year, with the winners being announced the following April. For more information visit the Horizon Interactive Awards online: www.horizoninteractiveawards.com.
About bBIG Communications Inc.
bBIG Communications is a diversified marketing and media services company that specializes in targeted digital and social media communities. We help companies maximize engagement and sales through integrated marketing and media strategies that encompass all elements of the marketing and media mix. Combined with full-service creative, media and KPI measurement services, bBIG enables clients to surround target audiences with 360-degree marketing and media, from awareness to pre-shop to sell–through. Our proven track record and best-in-class services benefit top global brands. To learn more, visit https://bbigcommunications.com.
About the Horizon Interactive Awards
Now in its 20th year, the Horizon Interactive Awards competition was created to recognize excellence in interactive media production worldwide. Since 2001, the competition has received tens of thousands of entries from nearly 50 countries around the world and nearly all 50 U.S. states. Each year, those entries are narrowed down to the "best of the best" to be recognized and promoted on an international stage for their excellence. The judging process involves a blend of the Horizon Interactive Awards advisory panel and a rotating panel of volunteer judges consisting of respected and engaged industry professionals. Winning entries have been dubbed the "best of the best" in the interactive media industry.
FOR PRESS INFORMATION, CONTACT:
Mark Tedeschi
bBIG Communications Inc.
mtedeschi@bbigcommunications.com
781-740-4050
— — —